This year's edition of the European Urban Resilience Forum (EURESFO23) was held in the City of Cascais. The Forum brought together more than 350 city and regional representatives, researchers, community organizations, European Commission members, and United Nations affiliates from 44 countries, all united by a common purpose: bolstering climate action and resilience in urban areas.
Cascais has been at the forefront of climate action in recent years. Notably, it was the first Portuguese municipality to embrace a roadmap for achieving carbon neutrality by 2050 (European City Facility, n.d.). Cascais has prioritized preserving its natural assets through various climate action efforts, initiating the Cascais Strategic Plan for Climate Change (PECAC) in 2010, which identified impacts on water resources, biodiversity, and other areas. The municipality continues its focus on climate adaptation by presenting the Action Plan for Climate Change Adaptation – Cascais 2030 in 2017, showcasing a strategic vision for innovation and resilience.
As a co-organiser of this years' edition of EURESFO, REGILIENCE was involved in various activities.
"What is resilience in practice: the past and the future"
The parallel session organized by REGILIENCE took place on the first day of EURESFO and was part of the "Challenging Knowledge and Innovation: Accelerating a Resilient and Just Transformation" stream. It was moderated by Jen Heemann (IEECP) and Matthias Watzak-Helmer (FEDARENE) and brought together more than 70 participants who exchanged knowledge and experience with the session's hosts – nine cities and regions, including North-West Croatia, Autonomous Region of Madeira, Central Macedonia, Jadranska Hrvatska (Istrian County Area), Valencia, Tbilisi, Coimbra, Thessaloniki, and Setubal. Additionally, representatives from our sister projects, CLIMAAX and RESIST, also actively participated in this session. 
Participants engaged in a dynamic World Café-style setup, rotating through different topics chosen by the hosts (cities and regions) to leverage diverse perspectives. At the session's conclusion, each World Café group shared key insights from their thematic discussions:
Climate Shelters: Effective coordination among various stakeholders is essential. Building a network of interconnected climate shelters within cities is a key concept, emphasizing the importance of considering the needs of the users.
Public Irrigation Systems: Drought was a prominent issue discussed, with a focus on solutions such as capturing stormwater in urban areas and ensuring water quality.
Land Use and Forest Management: Participants stressed the importance of coherent plans and data for risk management. Discussions also revolved around the cost of stakeholder engagement and the need to find appropriate incentives.
Role of Databases in Decision-Making: Databases design should be user focused so the right data to support decision making can be gathered.
Green Spaces Management: Recognizing both the merits & challenges of green spaces. Common issues across regions despite differences in climate. Balancing decisions among people and policy makers. Think locally for equitable solutions.
Governance & Engagement Tools: The main takeaway from this discussion was the recognition that there's no one-size-fits-all solution. Adapting to climate change and shifting populations is an ongoing, complex process that requires a holistic approach. The primary challenge lies in aligning policy with the needs of the community.
Sustainable Development Goals (SDGs): Participants discussed systematic approaches for cities and regions and the challenges of creating a comprehensive monitoring system aligned with the SDGs. They explored how to measure impact and implement systematic approaches effectively.
Increasing Health Resilience: Participants delved into the complex interactions between Urban Heat Islands (UHI) and Urban Air Pollution (UAP). Key takeaways included the need for various indices related to UHI and the potential benefits of a metadata monitoring system combined with air pollution data. This approach could foster collaboration with research and scientific institutions, even if challenges differ, solutions might share common ground.
Implementing Resilience using proven tools and techniques: The discussion revolved around the challenges of implementing plans related to mobility, climate, energy, and spatial organization. These plans must be harmonized, integrated, and connected to available funds and resources. Experience is crucial in modeling risks using complex GIS and simple models to adapt solutions and avoid maladaptation.
Image credits: EURESFO 2023
The Marketplace
Throughout the three days of EURESFO23, REGILIENCE hosted its own booth. It provided a space for anyone interested in the project, climate mission tools, and solutions to engage in discussions with the REGILIENCE team. It also provided a place for networking, knowledge exchange, and the opportunity to connect with the exceptional attendees who graced the event.
The EURESFO23 Journey Has Started: Reflections on Day 1
The first day of EURESFO23 ended with a session focused on the key takeaways from the various thematic streams. The session featured six speakers, including REGILIENCE's Project Coordinators Guido Schmidt, Senior Expert at Fresh Thoughts Consulting GmbH, and Jen Heemann, Expert in local action for energy and climate at IEECP. While Guido emphasized the significance of tools and solutions in facilitating climate adaptation and the need to improve mainstreaming across entire administrations, Jen explored the vital role of stakeholder engagement in climate action, especially if we aim for a just transformative pathway.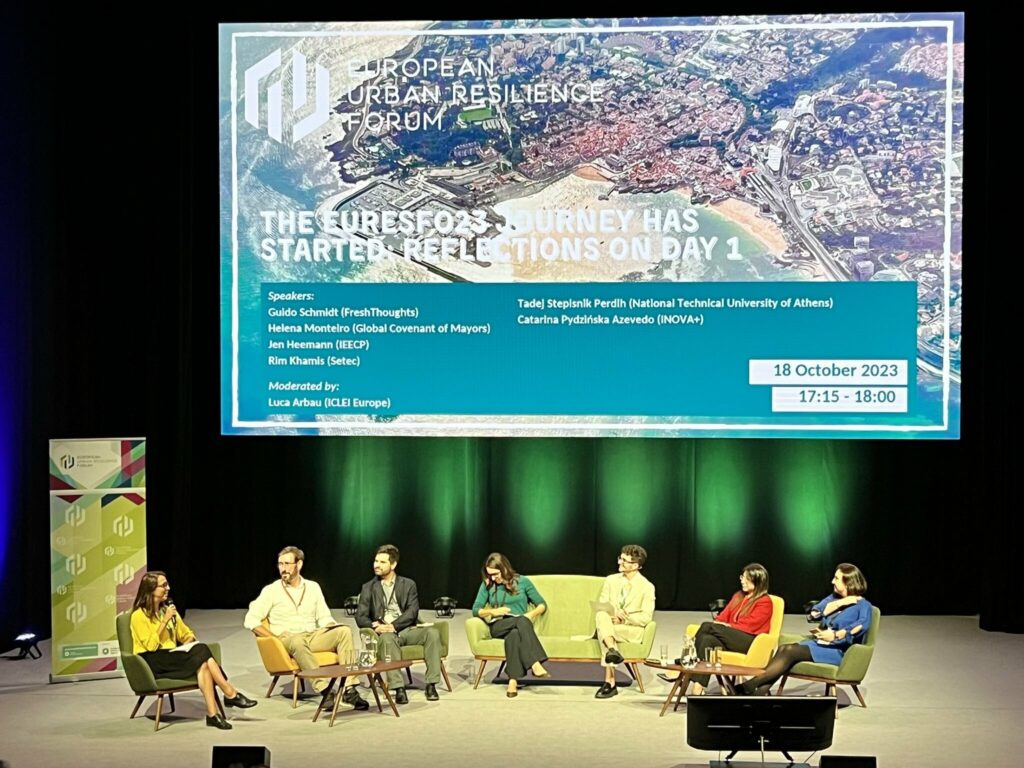 EURESFO23 in Cascais was a testament to the collective commitment to urban resilience and climate action. With discussions encompassing diverse aspects of climate adaptation, it served as a forum to share knowledge, innovative solutions, and, most importantly, the shared vision of creating climate-resilient cities and regions.
You can access the EURESFO 2023 official photo album here.