The objective of the capacity-building activities is to enable regions to co-design and finalize climate resilience pathways and to offer comprehensive support to regional and local change makers.
We provide a series of training sessions clustered in two cycles for European regions and communities within our Open Training Sessions (OTS). On top of this we provide activities tailored to our focus regions such as a customised support service, and peer-to-peer mentorship. We also coordinate the testing of public-private partnerships (PPPs) and region-specific training sessions.
Open Training Sessions (OTS)
The OTS objective is to inform interested European regions and regional actors about available support (e.g. opportunities on the European level, tools and solutions, indicators, maladaptation, funding), and technical solutions for adaptation (sectoral solutions and good practice implementations). These sessions are available for all interested parties and will take place between March 2023 and 2025. The sessions are organised in a series of ten online events divided into two cycles.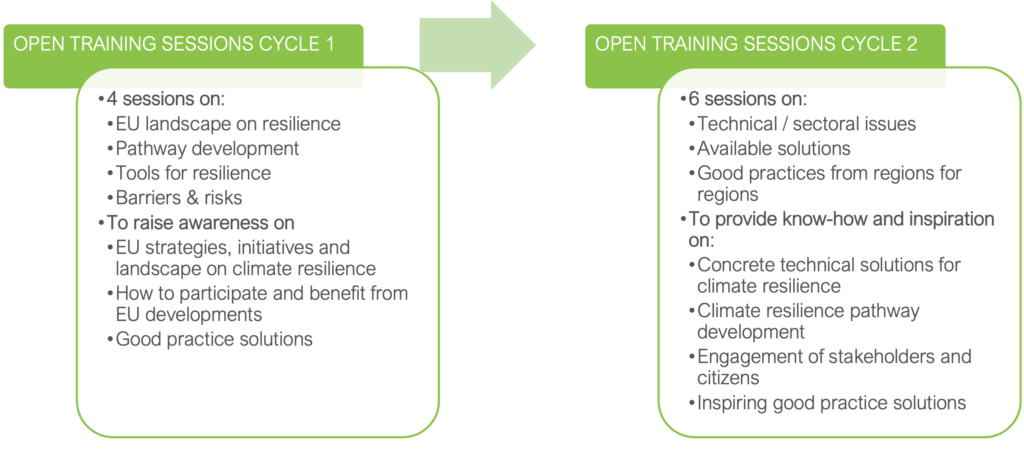 HAVE A SAY ON THE AGENDA!
The sessions are conceived including a lot of interactions with the audience. In addition to the many opportunities you will have to give your opinion and feedback, you will also be able to vote on the topics to be tackled during the second cycle.  
Do you need any support?

Please leave your request below: