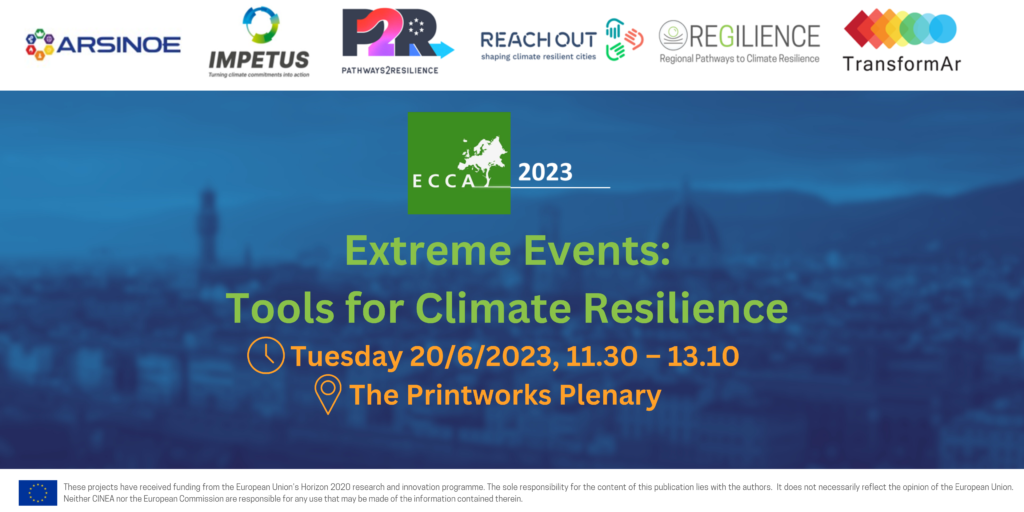 The upcoming European Climate Change Adaptation Conference (ECCA) 2023 is set to be a remarkable event that brings together experts, practitioners, and policymakers to discuss climate resilience strategies and share innovative tools. Organized by the Joint Programme Initiative "Connecting Climate Knowledge for Europe" (JPI Climate) and supported by the MAGICA project and the European Commission, ECCA 2023 will take place in Dublin, Ireland, from June 19 to 21, 2023. With a focus on actionable knowledge, this in-person conference will feature interactive sessions, plenaries, and live streaming for wider participation, and includes a session to explore Climate Resilience Tools promoted by ARSINOE, IMPETUS, REACHOUT, REGILIENCE, Pathways2Resilience and TransformAr projects.
This year's edition of ECCA will cover several thematic areas, including stepping up climate action, adaptation responses to sea level rise and coastal change, nature-based solutions, preparing for climate extremes, reframing societal transformation, and climate resilience of future energy infrastructure and systems. It offers a unique opportunity to explore cutting-edge tools and decision-support platforms that facilitate climate adaptation efforts.
One of the highly anticipated sessions at ECCA 2023 is the special session dedicated to climate resilience tools developed by EU Climate Adaptation Mission projects. Led by Jan Cools from the TransformAr and Ad Jeuken from REACHOUT project, this session will delve into the practical aspects of utilizing tools and approaches for climate resilience. Featuring thought-provoking pitches, a panel discussion, and insightful reflections, this session brings together renowned experts and practitioners to explore innovative ways of strengthening climate resilience at regional and global scales.
The session will take place on Tuesday, June 20, at the Printworks Plenary room between 11.30 – 13.10 CET. The session will kick off with an opening by Ad Jeuken from REACHOUT, followed by three informative pitches delivered by experts from TransformAr, REACHOUT, Pathways2Resilience, as follows:
How to enable the uptake of tools and approaches for climate resilience? Overview of barriers and enablers.
Does Transformational adaptation require a transformation in climate services and tools? Practical examples of applications of climate services in 7 cities.
How can tools to strengthen climate resilience be made accessible to the regions? Where do we go from here?
A panel discussion will then take place, reflecting on the outcomes of the poll questions and allowing for further exploration and exchange of ideas. Esteemed panel members, including Jan Cools (University of Antwerp & TransformAr), Nieves Peña (Tecnalia & REACHOUT), Thomas Koetz (Climate-KIC & Pathways2Resilience), and Guido Schmidt (Fresh Thoughts Consulting GmbH & REGILIENCE), will contribute their insights and expertise to enrich the discussion. Mr. Philippe Tulkens, Deputy Mission Manager of the EU Mission on Adaptation to Climate Change will provide reflections on the added value of tools for the EU Adaptation Mission. Finally, the session will conclude with a wrap-up by Ad Jeuken from REACHOUT.
All the project's representatives will be available for discussing the tools and other kind of information in the Piazza, on Wednesday afternoon.
Join us in Dublin to explore actionable knowledge for a climate-resilient Europe.
Learn more and register for ECCA 2023 here.
About the projects behind this session:
ARSINOE is an EU-funded project aimed at creating climate resilient-regions through systemic solutions and innovations. ARSINOE will shape the pathways to resilience by bringing together the Systems Innovation Approach (SIA) and the Climate Innovation Window (CIW) to build an ecosystem for climate change adaptation solutions. This approach is showcased in nine demonstrators, as a proof-of-concept with regards to its applicability, replicability, potential and efficacy.
IMPETUS is an EU-funded project that aims to accelerate Europe's climate adaptation strategy to become the world's first climate-neutral continent by 2050. By using an adaptation framework based on multi-sectorial, multi-scale and multi-impact solutions and building on Resilience Knowledge Boosters (RKBs), IMPETUS aims to align various governance levels and adaptation policies.
REACHOUT is an EU-funded research and innovation project to advance user-oriented climate services to support the implementation of the Green Deal.  Therefore, research partners, climate service providers and city stakeholders are co-developing a coherent set of services for seven city hubs across the EU.
REGILIENCE is committed to supporting the European Green Deal and the EU Mission "Adaptation to Climate Change" by fostering the adoption of regional climate resilience development pathways. The project develops, compiles, shares and promotes tools and scientific knowledge to support European regions in identifying and addressing their climate-related risks. We work closely with sister projects, such as ARSINOE, IMPETUS and TransformAr to enhance the capacity of 7 focus regions to tackle the unavoidable impacts of climate change.
The project has received funding from the European Union's Horizon 2020 research and innovation programme under grant agreement No 101036560.
Supporting the EU Mission on Adaptation to Climate Change, the Pathways2Resilience programme will empower European regions and communities to co-design locally-led pathways towards a climate-resilient future, providing them with guidance adaptable to local needs.
TransformAr is an EU-funded project aimed to develop and demonstrate solutions and pathways to achieve rapid and far-reaching transformational adaptation (TA) across the EU. The project will combine cross-sectoral and multi-scale innovation packages, as the combination of solutions and pathways, to support regions and communities in their societal transformation towards climate change resilience.
Contact