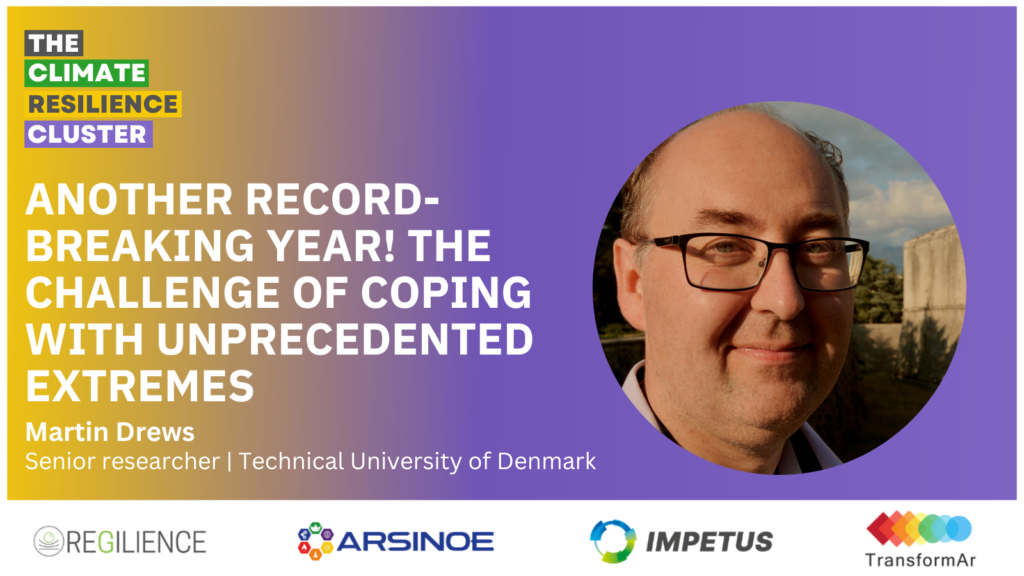 The year 2023 has, in several ways, been (another!) "one for the books". According to data from the Copernicus Atmosphere Monitoring Service (CAMS), the boreal wildfire season, which typically starts in May and extends into October, broke several records due to the dry conditions. In Europe, between July and August, devastating wildfires particularly affected north and central Greece. The Iberian Peninsula and Tenerife experienced one of the largest wildfires ever recorded. Meanwhile, in Scandinavia and particularly in Norway, critical infrastructure was damaged, and thousands were evacuated in August due to the extreme floods, landslides, strong winds, and lightning following the batter of Storm "Hans". Then in September, extreme flooding in Greece, Turkey, and Bulgaria due to Storm "Daniel" turned villages into lakes, leaving lives lost and widespread destruction in its wake. In the Greek city of Volos, where torrential rains were among the most intense, 600-800 mm of daily rain was recorded by the meteorological service, corresponding to more than one year's worth of rain! This is so far considered the worst storm ever recorded in Greece! Even so, perhaps the most catastrophic consequences of "Daniel" happened a few days later in Libya, where dam failures caused by the extreme rains led to the flooding of the city of Derna, causing thousands of deaths. These events and a few more not mentioned here follow a recent trend that saw the fatal, unprecedented floods in Germany, Belgium, and the Netherlands one year, followed by some of Europe's largest rivers – the Rhine and the Po – running dry the very next.
The Intergovernmental Panel on Climate Change (IPCC) concludes that climate change is likely to be at least partially responsible for the increasingly frequent and severe weather and climate extremes observed recently – with devastating consequences for both communities and the environment, such as the aforementioned disasters. To build sustainable and resilient societies in a changing climate, it will therefore become even more important than ever to anticipate such events. However, as we are propelled into uncharted territory, we are no longer able to rely on knowledge from the past to prepare for the floods and wildfires of the future. Rather, this will require "thought experiments" where we contemplate worst-case scenarios and assess their plausibility. This includes "compound" events, whose consequences are aggravated by combinations of different human, technical, and environmental factors. For example, when a rain-induced river or flash flood is intensified by already heightened water or soil moisture levels (that is, a "preconditioned" event), or when flood impacts result from a succession of natural and/or technical events as was the case of the dam failure in Libya (that is, a "cascading" event). Needless to say, anticipating such events can only be done through a deeply interdisciplinary and holistic approach that considers both drivers, hazards, impacts, multipliers, and potential responses.
In ARSINOE, we build a suite of tools and innovative solutions to help us prepare for a sustainable transformation that, in some places, will be crucially framed by increased risks of new record-breaking extremes, e.g., floods, droughts, heatwaves, and wildfires, or other climate-induced hazards that may have unprecedented consequences for humans and ecosystems. This includes high-impact events representing plausible but not yet observed hazards and comprises dedicated climate services and land surface response tools to support and advise water and land management, agricultural practices including the development of new crop types, urban development, marine operations, economic assessments, governance, and the preservation of vulnerable ecosystems. These are tailored to many of the hot spots already mentioned above: in the Black Sea and the Mediterranean, Central and Northern Europe, and will provide new insights to help cope with the challenges from extreme and unprecedented climate and weather events. In this way, ARSINOE adds to an emerging portfolio of much-needed initiatives across the EU, including its sister projects REGILIENCE, IMPETUS, and TransformAr. Hence, even if significant global mitigation goals such as those defined by the Paris Agreement are achieved, recent disasters due to extreme weather – not only in Europe but all over the world – increasingly beg the question of whether we are even adapted to the current climate?
You can download the opinion article here.